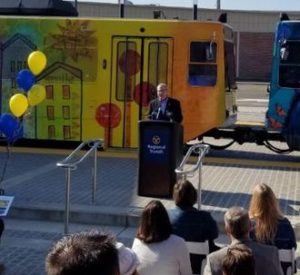 This is a very exciting time for Sacramento Regional Transit, now known as SacRT.  In the past year the SacRT Board has been pushing forward on a number of new projects and initiatives to expand service and provide a better rider experience.  As Chair of the SacRT Board, Supervisor Kennedy looks forward to continuing to transform SacRT into a quality 21st century transit system we can all be proud of.  Here are just a few things happening right now:
SacRT awarded $84 million for New Light Rail Trains and Double Tracking to Folsom
That transit agency was awarded two grants worth over $84 million.  These two state grants will help to purchase 20 new low-floor light rail vehicles to replace existing trains that have long outlived their lifespan.  The grant will also allow the district to modify several light rail stations to accommodate the new low-floor style light rail trains, which are easier to navigate for people with disabilities as well as those with bicyc
les, strollers and luggage.  "We anticipate these new light rail vehicles will dramatically increase the reliability of our service," said Board Chair Patrick Kennedy.  "This is just another example of SacRT becoming a state-of-the-art transit system where service is exceptional and valued by the public and business community."
Grant funding will also go towards three express routes from Folsom to downtown Sacramento during peak commute hours with the goal of decreasing commute times and reducing congestion on local freeways.
SacRT Forward
For those who missed our last bulletin, SacRT is embarking on a major redesign of its transit network.  Over the next year, SacRT will be developing a new network of bus routes based on community input and data analysis.  The goal is to provide an updated transit network that reflects current travel patterns and features i
mproved connectivity.  There will be a number of opportunities for residents to provide their input to SacRT moving forward.  Take a look at SacRT Forward's webpage (http://www.sacrt.com/apps/sacrtforward/) to see how you can be involved.
SmaRT Ride
Look out Uber and Lyft! Did you know there is a new rideshare competitor in the Sacramento Region?  SacRT has launched a new program that will allow riders to request a bus to come straight to their location and drop them off at another location in the area.  Riders will use an app to request the ride with a flat fee of $2.75 with discount rates for seniors, students and those with disabilities.
This new program uses public shuttle buses that are smaller than the typical SacRT bus.  It was launched a few months ago as a pilot program in Citrus Heights and will now be expanding to a number of new areas over the coming year.  SmaRT Ride customers will also be able to request rides by calling 916-556-0258 or by going online to ondemand.transloc.com ; however, trip reservations must be made on the same day.