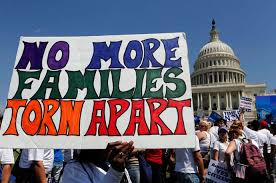 The number of people detained or deported by immigration agents across the country has been increasing under the current administration.  Immigration officers can take undocumented immigrants directly to a detention center without allowing them to return home or make arrangements for their families.  Many undocumented immigrants are parents with children waiting for them at home.  Approximately, 5.5 million children in the U.S. live with a parent that is undocumented.  It is important that if that happens, both families and the County of Sacramento have emergency plans to protect these children from the trauma of a possible separation, and families are stabilized and/or reunited as soon as possible, whether here at home or abroad.
Unfortunately, there has also been a great deal of confusion around immigration and visa orders, as well as misinformation in our communities that needs to be corrected.  For clarity and to combat that misinformation, Sacramento County is working with local partners and communities to disseminate accurate information.  The County and its partners are also working with communities to make sure that any undocumented adults with children have a Family Preparedness Plan that includes things like choosing a responsible adult to care for the child, leaving wishes in writing, and having all documents at the ready.
Protecting all the children of Sacramento County is one of Supervisor Kennedy's top priorities.  The County is very thankful for the Latino Jewish Forum, and the Mexican Consulate's office, for partnering with the County to take a lead on this issue, as well as all the other organizations that will be necessary to carry out this outreach effort.  These plans are currently being finalized and should be rolled out by Fall.