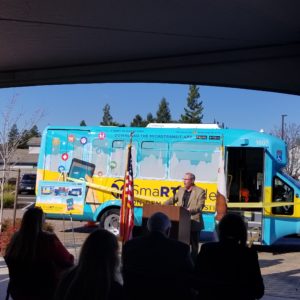 In the age of Uber and Lyft, Sacramento Regional Transit is has launched a new program called "SmaRT Ride" – an on-demand bus service being piloted in Citrus Heights.
Using the new SmaRT Ride program is pretty similar to using other ride-sharing services. Simply download the Microtransit app, request a ride and within minutes, a bus will show up to your location, and instead of paying Uber or Lyft prices, you'll pay the same as you would for a standard RT fare.
"It was great. It was quick and very easy to use," Peter Firpo, the first SmaRT Ride rider, said.
"This new low-cost and convenient service will be especially helpful for seniors and people with disabilities," said RT Board Chair Patrick Kennedy.  "For many this could be a life changer."
Citrus Heights is one of the first cities in the nation to adopt the micro transit technology developed by TransLoc.
Regional Transit CEO Henry Li says if things go well in Citrus Heights, communities like Orangevale, Fair Oaks and Folsom may see on-demand bus services next.